Our guests' safety has always been our first priority. This trend will continue now on our base too. We will provide the opportunity for sanitization, and face masks if needed. Our changing rooms, toilets and cars are disinfected after every tour!
Rumor has it that the virus hates ice cold, crystal clear, white-water rivers!
Get ready for the ultimate adventure! Our team of 14 qualified and experienced guides offers you an unforgettable trip in Bovec, Slovenia, on the emerald waters of the Soca River. We have been organizing adventure programs since 1997.
Bovec is the home of outdoor adventures
Our rafting team is a leading expert in water sports activities in Bovec, Slovenia. We invite you to explore the most exciting whitewater river in Europe and to enjoy its natural beauties. We offer several types of whitewater trips. Whether you visit us with your family or as a thrill seeking individual, you will get what you expect and a little bit more!
"Safety First, Fun EVERY Second!"
Some clients ask "What are the differences between companies? ". We provide a premium experience within our trips - like swimming down on rapids while we take pictures of you, jumping from rocks, making a slide from the bottom of the raft and filming your experience from our drone-.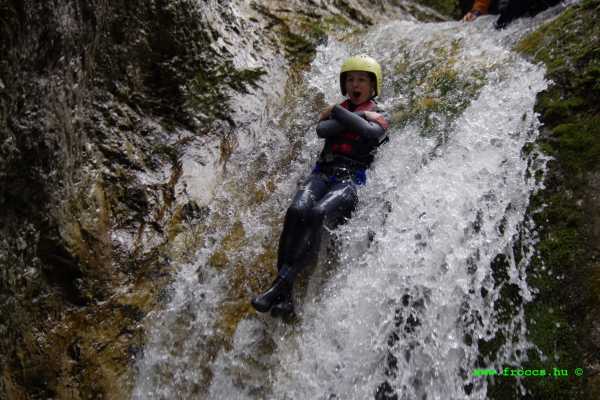 Susec canyon is a natural waterpark on the rocks. Technically, this is one of the easiest and most enjoyable canyoning trips in Slovenia. Take an easy walk (about 20 min.) to the top of the canyon and then get ready for the adventure. Be a child again and enjoy jumping, sliding, and swimming through crystal clear creek of the canyon! The rocks are completely smooth so you can slide down. Take part on this 3-hour adventure in Susec canyon with our professional guides! Before the canyoning trip, there is a safety talk which includes your guide explaining how to move on the wet rocks, and what is the right position when you jump or slide. "Safety First, Fun EVERY Second!" Recommended for: Families, individuals, colleagues What's Included: Personal equipment (neoprene clothes, jacket, and boots) Safety equipment: harnes, helmet, PFD (life vest) Professional guides Transportation Permit What to bring: Swimsuit, towel, small bag, money for video and souvenirs, suncream, Croakies for glasses (head strap) We sell for 5 EUR Requirements: Confident with heights Minimum age: 10 ​Max size: 58 Duration: 3,5 hours including transport and changing time. 1 1/2 hours on river. Start: 8:30, 13:00 Photo & Video Service: Rent a gopro helmet camera: 20 EUR/trip Order your trip photoes here >>>
Exteme canyons are a must for thrill-seekers For our most adventurous guests, we offer extreme canyoning in the Kozjak and Fratarica canyons. Not only is it an adrenaline rush, but also a breathtaking experience in nature. Fratarica has 5 waterfalls, the Parabola, the highest being 50 meters! The Kozjak trip starts with a stroll in the forest path, where the crystal colors of the river can be observed. After, we begin our adventure with the first 10-meter jump into the emerald pool. Then the descent begins on various waterfalls, ending with the last 20-meter jump into the popular abyss. "Safety First, Fun EVERY Second!" Recommended for: Families, individuals, colleagues What's Included: Personal equipment (neoprene clothes, jacket, and boots) Safety equipment: harnes, helmet, PFD (life vest) Professional guides Transportation Permit What to bring: Swimsuit, towel, small bag, money for video and souvenirs, suncream, Croakies for glasses (head strap) We sell for 5 EUR Requirements: Confident with heights Minimum age: 12 ​Max size: 58 Duration: 3,5 hours including transport and changing time. 2 hours on river. Start: 8:30, 13:00 Photo & Video Service: Rent a gopro helmet camera: 20 EUR/trip Order your trip photoes here >>>
Easy or intermediate whitewater kayak trip: The half day inflatable kayak trip is ideal for people who desire a more challenge experience compared to rafting and the opportunity to be the captain of your own whitewater craft. Due to its design, it is much more stable on the water than the traditional plastic kayak. However, it does not require any paddling skills but you have to be fit and physically capable to paddle. Our guides will teach you everything you need to know to be able to manage your own boat! The Guppy is a one-person kayak designed to provide the most fun for beginners and experienced paddlers on whitewater day trips. The Ducky is a longer double version that is ideal for larger individuals or as a tandem two person adventure. By the end of the trip there is a good chance be addicted to whitewater kayaking :-) On the half day kayak trip, we go down on one of the most popular sections of the Soca River. You can choose between a beginner (Class I-II) and intermediate (Class II-III) section. Attention! The intermediate trip is not recommended for people who have never tried whitewater rafting, have no paddling skills or boating experience. We recommend choosing the beginner class for your first adventure and then our guides will help you advance your new skills to the next level on our intermediate adventure! Our kayak trips are guided by an instructor who will let you know everything about the river, safety, and paddling technics. Animated tutorials about kayak paddling The first part of the river is easier, where you can practice what you have learned. The second part is longer and more fun. The river goes through a nice, open gorge with big rocks, waves and rapids (Class II-III). We can guarantee no one will get out dry. During the trip we will stop to refresh ourselves and you have a chance to jump from smaller and bigger rocks or if you are feeling adventurous you can try swimming down on an easy rapid. "Safety First, Fun EVERY Second!" Recommended for: Families, individuals, colleagues What's Included: Personal equipment (neoprene clothes, jacket, and boots) Professional guides Transportation Medium difficult rapid Class II-III 8-10 km on the river (depend on the water level) What to bring: Swimsuit, towel, small bag, money for video and souvenirs, suncream, Croakies for glasses (head strap) We sell for 5 EUR Requirements: Swimming ability required Minimum age: 14 ​Max size: 58 Duration: 3,5 hours including transport and changing time. 1 1/2 hours on river. Start: Weekdays: 9:00, 14:00 Weekend: 8:30, 14:00 Photo & Video Service: Rent a gopro helmet camera: 20 EUR/trip Order your trip photoes here >>>
From EUR 65
Enjoy a half day rafting trip on the Soca River in Bovec, Slovenia This excursion is an ideal introduction to the thrill of whitewater rafting, that is great for families or groups. Choose between our morning and afternoon departures and spot local wildlife as you cruise down the river with our professional guides. On the half day rafting trip, we go down on the most popular section of the Soca River. Before the rafting trip, there is a safety talk which includes your guide explaining what you have to know about the river, your equipment, and paddle techniques. The river gradually increases in difficulty. The first part of the river is easiest, where you can practice what you have learned from your guide and bond to become a real team. The second part is longer and more exciting. The river flows through a nice, open gorge with big rocks, waves, and class II-III rapids. We can guarantee no one will get out dry! During the trip we will stop to refresh ourselves and you have the chance to jump from smaller or bigger rocks or try swimming down on an easy rapid. "Safety First, Fun EVERY Second!" Recommended for: Families, individuals, colleagues What's Included: Personal equipment (neoprene clothes, jacket, and boots) Professional guides Transportation Medium difficult rapid Class II-III 8-10 km on the river (depend on the water level) What to bring: Swimsuit, towel, small bag, money for video and souvenirs, suncream, Croakies for glasses (head strap) We sell for 5 EUR Requirements: Swimming ability required Minimum age: 6 (small or regular water level) ​Max size: 58 Duration: 3,5 hours including transport and changing time. 1 1/2 hours on river. Start: 8:30, 13:00 Photo & Video Service: Rent a gopro helmet camera: 20 EUR/trip Order your trip photoes here >>>
From EUR 50
Above a mountain valley on Kanin stands a fresh built zip-line park, the biggest of its kind in Central Europe. Fly 3 km about 40-60 km/h at heights up to 200 meters! The course runs along the hillside of the picturesque Kanin, which is located 1200 meters high. "Safety First, Fun EVERY Second!" Recommended for: Families, individuals, colleagues What's Included: Safety equipment: harnes, helmet Professional guides Transportation What to bring: Closed shoes Requirements: Don't fear of heigh Minimum age: 6 Duration: 2,5 hours including transport Start: 9:00, 10:00, 14:00, 15:00, 17:00 Photo & Video Service: Rent a gopro helmet camera: 20 EUR/trip Order your trip photoes here >>>
Find an Activity / Explore Our Activities